IL 100/106 Over IL River/Florence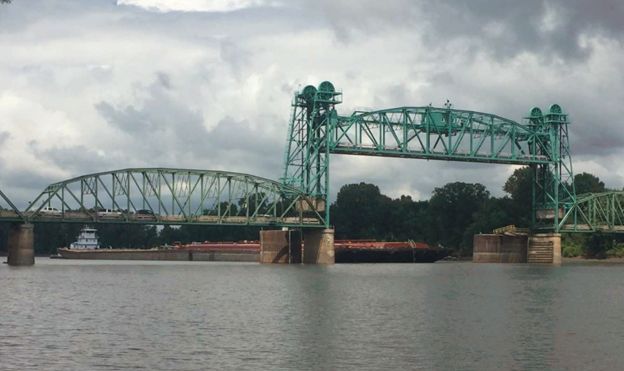 SVS has years of experience with helping organizations and government entities find solutions to problems  with roads and bridges.  The Illinois Department of Transportation and Parsons reached out to SVS to help with a bridge that has been a reliable and important river crossing for almost 100 years but has come to the end of its functionality and structural soundness.  This bridge is an important river crossing and is relied on by the residents, agricultural community, and businesses with over 1,500 vehicles crossing per day. 
The project will replace the existing bridge over the Illinois River in the Village of Florence.  The proposed bridge is a 19-span plate girder structure including a 400-foot navigation channel span.  The other spans lengths range from approximately 150 to 330 feet.  The proposed bridge is divided into four bridge units.  Unit 1 is from the west abutment to Pier 6, Unit 2 is from Pier 6 to Pier 9 and includes the navigation span, Unit 3 is from Pier 9 to Pier 14, and Unit 4 is from Pier 14 to the east abutment.
SVS and the Value Team developed alternatives to the original design to accomplish the project's primary functions of facilitate construction, improve safety, and reduce maintenance.  To facilitate construction, the Value Team recommended reducing the soil excavation bench width, simplifying the pier design, eliminating diamond grinding, removing the truck climbing lane, installing tied back soldier piles to reduce cuts, and allowing the contractor to bid either concrete or hot mixed asphalt (HMA) roadways.  To reduce maintenance, the Value Team recommended either replacing a span with fill and a MSE wall or reducing the length of that span, reducing the number of steel girders, reducing the shoulder widths, and improving the drainage solution between the old and new roadway alignments.
For more detailed project information and results, please contact the SVS Project Manager directly
Kyle Schafersman, Risk & VE Project Manager PE, CVS, PMP, RMP