Atchafalaya Basin New Orleans Levee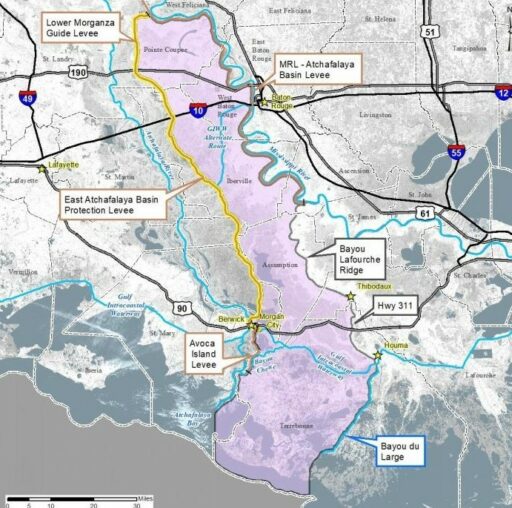 The Atchafalaya Basin, a land of bayous, marshes, and rich farmland, has long struggled with backwater flooding during periods of high water in the Atchafalaya River. This phenomenon, which affects parishes such as Pointe Coupee, West Baton Rouge, Iberville, Ascension, Assumption, Iberia, Lafourche, Terrebonne, and St. Mary, poses a significant threat to homes, infrastructure, and the environment.
To address this pressing issue, a visionary project has taken shape, guided by the shared commitment of local communities, government agencies, and concerned citizens. The Atchafalaya River Backwater Flooding Mitigation Project envisions a resilient future, one where backwater flooding is no longer a constant menace.
This groundbreaking initiative explores four distinct pathways to achieving this vision:
Levee East of Morgan City (LEMC): A robust combination of earthen levees, floodwalls, and innovative infrastructure, designed to follow the natural contours of Bayous Boeuf and Black, culminating in a new lock and two closure structures.
St. Mary Parish Bayou Chene Flood Protection and Diversion Structure (Permitted Project): Currently under construction, this 9.6-mile flood protection levee system, complete with a 400-foot barge gate and fixed flood walls, is set to safeguard the heart of Bayou Chene in Amelia, LA.
St. Mary Parish Bayou Chene Flood Protection and Diversion Structure (Federal Standard): Elevating the Permitted Project to federal standards, ensuring compliance with US Army Corps of Engineers (USACE) guidelines, and enhancing its eligibility for inclusion in the Mississippi River and Tributaries (MR&T) Program.
Avoca Island Levee Extension: A historic recommendation dating back to 1982, this option proposes a 5.5-mile levee extension, although challenges, costs, and opposition must be carefully considered.
A dedicated Value Team has delved deep into these alternatives, exploring creative proposals and engaging in spirited discussions about potential obstacles and federal standards. The Value Team evaluated all the different alternative alignments (Bayou Chene, Levee East of Morgan City, and the Avoca Island Levee Extension) and developed some proposals for each alternative.  The team spent a significant amount of time discussing potential obstacles and other factors that would need to be considered in order to accept the Parish levee as a federal levee.  This is reflected in the large number of ideas for the Bayou Chene alignment.  The team also had discussion over the dated project conditions being used for analysis.  Leading to a recommendation to conduct a more rigorous analysis to incorporate recent changes and predicted future changes to the site conditions. The team's work has illuminated a potential cost-saving opportunity, amounting to approximately 94% of the project's overall cost.
For more detailed project information and results, please contact the SVS Project Manager directly
John Robinson, Executive Vice President and Sr. Project Manager PE, CVS-Life, FSAVE