Port Everglades Deepening & Widening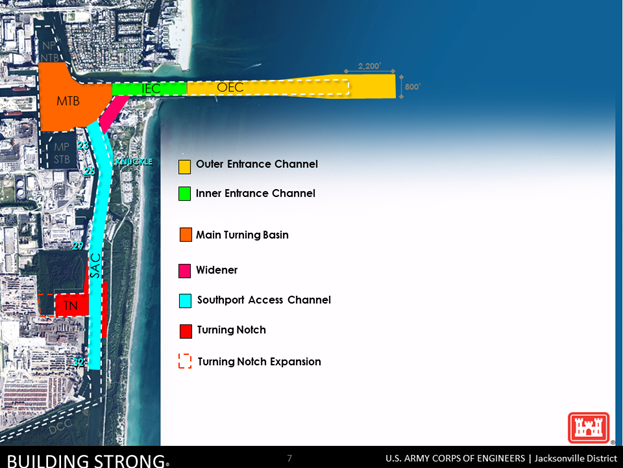 Port Everglades is a seaport in Fort Lauderdale, Florida, located in Broward County.  Port Everglades is one of South Florida's primary economic drivers, as the port is utilized for both international trade and cruise vacations.  The port is South Florida's main seaport for petroleum products including gasoline, jet fuel, and alternative fuels.  The total value of economic activity at Port Everglades is approximately $32 billion annually.  Approximately 219,000 statewide jobs are impacted by the port, including more than 13,000 people who work for companies that provide direct services to Port Everglades.
The Port Everglades Deepening & Widening Project consists of dredging of Port Everglades Harbor, Florida.  The total quantity to be dredged from the Federal Channel is approximately 5.3 million cubic yards and approximately 300,000 cubic yards from the berthing areas.  All dredged material will be placed in the expanded ocean dredged material disposal site.  Other works include the construction of  environmentally Friendly Bulkheads (EFB) placed along portions of the east and west sides of the Southport Access Channel, five acres of artificial reef and the transplantation of approximately 11,500 corals from impact areas, and new planting of approximately 103,000 nursery raised corals.
The Value Team analyzed each element of the project and determined to develop creative ideas to improve value within the categories Preserve Habitat, Rebuild Habitat, and Increase Maneuverability.  The alternatives developed not only found opportunities to reduce environmental impact while maintaining the functionality of the port and port operations, but also presented an estimated potential cost avoidance on the project of $101,956,000.
For more detailed project information and results, please contact the SVS Project Manager directly
Ryan Robinson, Vice President of Operations and Sr. Project Manager PE, CVS